Welcome to Green Valley Farm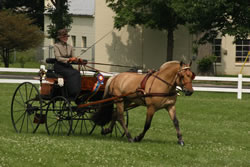 Green Valley Farm is a well known Norwegian Fjord Horse farm, located in northwestern Illinois (USA), in the beautiful town of Galena. For over twenty years we have owned and produced Norwegian Fjord Horses that have won top honors in
ADS
(American Driving Society),
USDF
(United States Dressage Federation) and Fjord breed shows.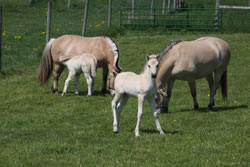 Some of Green Valley Farmís fjord horses are among the top highest scoring fjords in the United States Fjord Evaluation Program. Owners Howard and Sophie Fiedler, along with their dedicated team, offer superior Fjord Horses for sale, including foals, young horses, imported horses and more.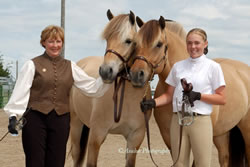 Whether your goal is to own champion Fjord Horse brood mares and produce the next champion offspring, discover the next yearling superstar, find a reliable companion, or fulfill a dream of owning your first Fjord Horse, Green Valley Farm can help make it a reality. Please visit our
Sale Page
to view our current sales list.
It is our pleasure to invite you to enjoy our Norwegian Fjord Horse site at your leisure.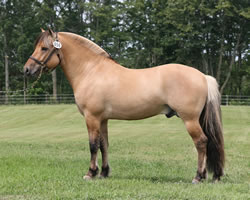 Visit our
Stallion page
to view each of our four stallions, including pedigrees, Evaluation scores, list of accomplishments and gallery of photos.
Located 3 Ĺ hours west of Chicago, we invite you to come see our horses and perhaps make your dream come true.
We take pride and update this site on an on-going basis so stop by as often as you wish.
We would be happy to help you plan your trip to Green Valley Farm to meet any of our Norwegian Fjord Horses.
Thank you for visiting our site.